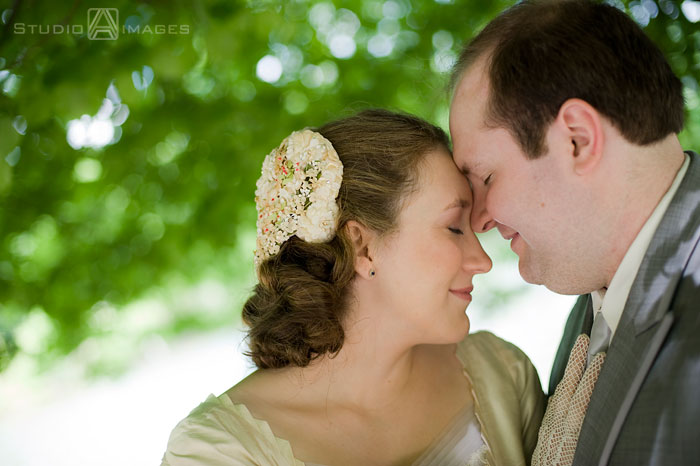 Amber + Richard's wedding was sweet and romantic as well as fun and playful – just like the two of them. Our day started at Red Mill Museum in Clinton for their bridal portraits and Amber's 1950s vintage dress went perfectly with the setting. You could get a sense of how much Amber + Richard love each other and how happy they are to be getting married from every look and glance they gave one another (so adorable!) I could have stayed at the mill all day photographing the two of them, but we had a large bridal party awaiting us at the Grand Colonial, where the ceremony and reception took place. This may have been one of the largest bridal parties I've ever photographed and yet not only did all the bridemaids shine in their pastel dresses, but everyone was so good at listening as we posed them for the big group shots. Amber + Richard created their own ceremony and the vows had nearly everyone in tears. The reception continued with the 50s theme, including a surprise Elvis impersonator and dress change for the bride.
Thanks to Carolina for 2nd shooting with me and to Cara for all your help!
Congratulations Amber + Richard! May your marriage continue to be the sweetness we all were lucky to witness on your wedding day.
Bridal Portrait location: Red Mill Museum
Ceremony/Reception location: Grand Colonial
Florist: Morningside Greenhouse
Table Décor: Elegance Remembered
Lighting: Eggsotic Events