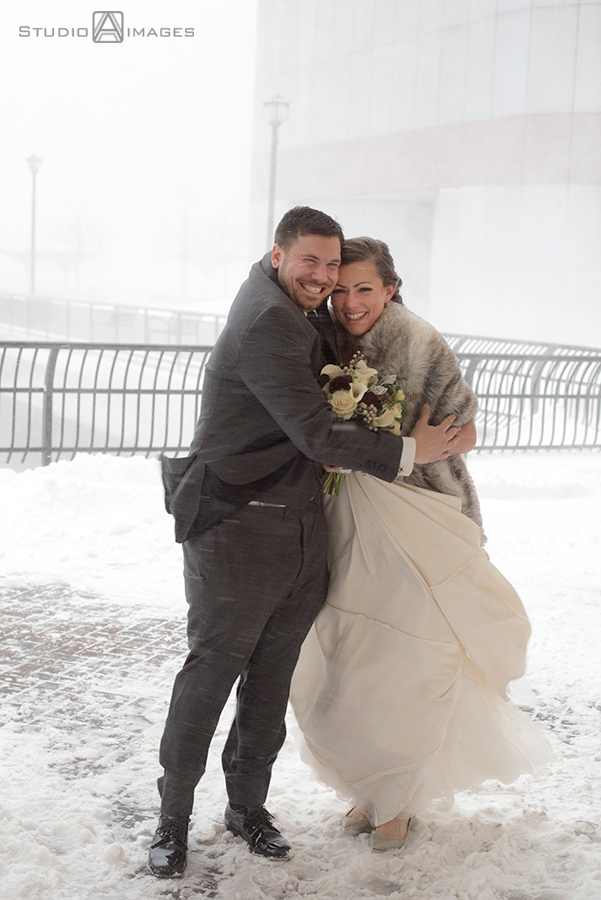 It's been 2 weeks since Winter Storm Jonas pummeled the area with over 2 feet of snow. There are a few small piles of snow yet to melt but this unusually warm winter had made the storm almost a distant memory. For Lauren + Josh and their friends and family – this crazy blizzard will be a memory long remembered as an amazing wedding weekend no one will forget!
Lauren + Josh planned their winter wedding to happen at both the Hyatt Regency in Jersey City and St Ann's church in Hoboken. Mother Nature had other ideas. When dawn broke on January 23, the usually grand and majestic view of NYC from Jersey City was completely cloud covered. Snow was falling by inches every hour and the wind was fierce off the water. While many of the guests had made it to the Hyatt – getting to Hoboken for the ceremony was becoming problematic, especially when the town closed the roads. After a lot of discussion it was decided it was safest to have a civil ceremony at the Hyatt (performed by a cousin's husband who was ordained online and had performed a few ceremonies before) and the church ceremony would take place the following day once the roads were clear. So they were still married on January 23, as planned. Dancing and celebration followed and around 9 pm, the sky cleared and you could see the NYC skyline through the snow that was still falling.
This was a wedding where all the vendors really stepped up their game. Melissa and her team at the Hyatt found a room so that the ceremony could take place at the hotel. Hair and makeup came the night before to make sure they would be there no matter the weather that morning. The florist, Eileen from In The Garden, also came the night before and somehow managed to keep the flowers looking amazing for the entire weekend. The band, the Storytellers, managed to find subways that were running before the system was shut down and made it to Jersey to keep the crowd dancing throughout the night. As vendors – this is what we do – everything in our power to be there for our couples and this was an amazing team of individuals that I had the pleasure of working with for this incredible couple.
To Lauren + Josh, thank you for putting your trust me in, for allowing me to take you outside a number of times in the freezing wind and snow, and thank you for handling what was a crazy stressful situation with more grace than most people I know.
Enjoy the photos and the memories!